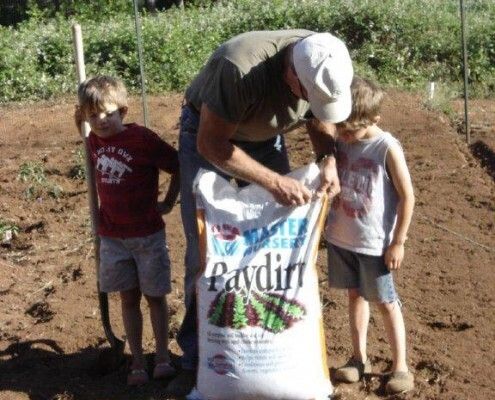 The History of Weiss Brothers Nursery
The Weiss Brother's future began in their childhood, in the early 1960's, growing vegetables on the family property on Colfax Highway and selling the harvest pears, apples, corn, zucchini and cut flowers at the rustic farm stand in front of their home. Once they were old enough to drive, they marketed the fresh product through local markets such as SPD and the Colfax D & M Market.

In 1967, Dwight Weiss was a freshman at Nevada Union High School and a vocational agriculture student. He started an FFA forestry project and planted seeding trees. Soon the trees replaced the pear and apple trees that once grew on the family's 10 acre property. His older brother Martin was enrolled in Sierra College in Rocklin, California majoring in ornamental horticulture, with plans to complete his education at Cal Poly in San Luis Obispo. While at Sierra College, he met their future business partner, Emil Baldoni, who was also following along the same educational pathway.
The Early Days
Emil, a native from Auburn, California had been working for Yamasaki Nursery (now occupied by the Bel Air shopping center in Auburn)since he was in 8th grade; experience all aspects of the retail nursery business. Upon graduating from Placer High School, he enrolled in the ornamental horticulture program at Sierra College then transferred to Cal Poly where he earned his degree in ornamental horticulture in 1972.

Meanwhile, Dwight, along with Martin, (who was on a summer break from college) pooled their resources to purchase supplies needed to produce 80,000 seedlings. They built seed beds, purchased rice hulls and fertilizer to make a soil mixture and built an irrigation system to water the fledgling plants. Some of the Monterey Pine, Scotch Pine, Giant Sequoia, Liquid Amber, White Fir and Douglas Fir seedlings were later sold to Christmas tree growers in Northern California, while 30,000 were transplanted in the fields adjoining their family home.

1n 1969 the brothers hand dug and marketed the first "mini" Christmas trees which they sold to Safeway, Lucky, and Payless stores. They continued to expand their business by becoming landscape contractors in 1971 and growing general nursery stock that they used in their landscape work.
Opening Of Weiss Brothers Nursery Retail Store
In 1974, Martin, Dwight, & Emil opened the Weiss Brothers Nursery retail store on Maltman Drive in Grass Valley. Four years later they purchased some local property to build greenhouses and growing grounds to provide plant material to supply the needs of the retail store. The goal was to grow plants that would flourish in the foothill area and provide their customers with the best product. They locally grown nursery stock and vegetable plants are selected according to the specific needs and requirements of the region.

Thanks for reading. We look forward to seeing you at the nursery!