PICTURES FROM AROUND THE NURSERY
Demo Garden (Part 2)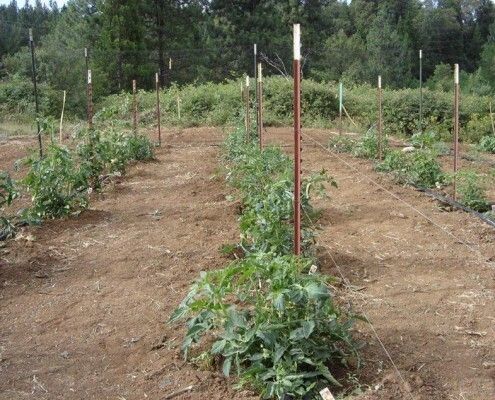 It's been awhile since our last garden update and we'd like to share with all of you the progress we've made.

We have installed our porous pipe drip system on each row of the garden and set our timer for 90 minutes a day. We like to set the timer for an early morning watering- ours is set to go on at 6:30 a.m.

Last year we had a problem with the tomato plants becoming over-crowded and unsupported by using a traditional stake system. This year we are implementing a 3 wire T-post trellis system along with some new nifty plant clips! This clip is biodegradable and attaches easily to the plant stem and wire.

We are also trying a trellis netting system for the cucumbers since last year we (again) experienced overgrowth into pathways and some of the "cukes" had that undesirable bleaching where it came in contact with the soil. Our hope is that the vegetables will not only be more visible, but easier to pick and cleaner too. Each row has been mulched using 2 year decomposed pine chips, 4 inches deep. We obtained these chips from a downed tree at our growing grounds. You could use Black Forest mulch which we do sell at the nursery. This is important to retain moisture and aid in weed abatement.
The porous pipe, plant clips, and trellis netting is available at the nursery.

In the next posting, we will list all the vegetables we have planted and how they are doing. We hope all of your gardens are thriving!
Demo Garden (Part 1)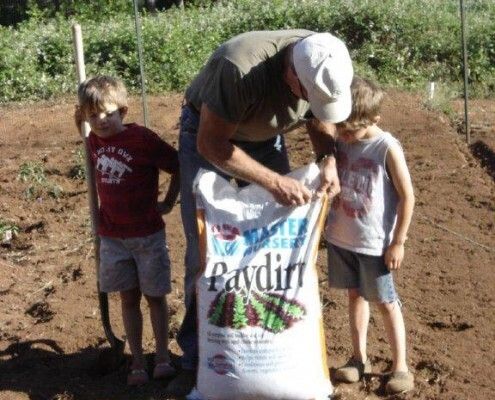 Welcome to the start of our Weiss Brothers Nursery Demo Garden.

It's always easier to be able to maneuver around the garden to till and prepare the soil without running into fencing. Every winter we remove the posts and fencing to prepare the garden for spring planting. We like to use 7' tee posts and 7' one inch square poly deer netting for our barrier. The set-up time is relatively quick and easy for one person to accomplish with minimal effort.

Our garden is 40' X 30' which we believed would be a good size in order to demonstrate drip systems, trellising, and different tomato and vegetable varieties.
We started planting on June 4, and we will keep you informed as to our progress, future plantings, trellising, and irrigation. We'll let you know our new favorite varieties!

We carry the deer netting, drip systems and all soil amendments and plants at Weiss Brothers Nursery.